Donate Now
You can support the activities of the Tibetan Buddhist Rimé Institute in a variety of ways. Any meritorious gesture of generosity creates a karmic link between yourself and the virtuous activities.
Offering Opportunities
8 Auspicious Symbols Fence Fundraiser
The Rime Institute is painting the fence that faces the street. We are planning to add the 8 Auspicious symbols to it for the benefit of all those that drive by. We are crafting and painting them ourselves and will adhere them to the fence. The sponsorship covers the cost of paint and materials.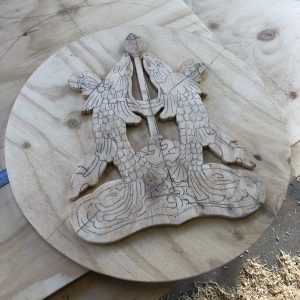 Each will be hand carved in wood and painted.
The Eternal Knot
The Treasure Vase
The Lotus Flower
The Two Golden Fish
The Parasol
The Conch Shell
The Victory Banner
The Dharma Wheel
Lama Lobsang Trinlé Portrait for the Throne
Khentrul Rinpoche has instructed to us that it would be beneficial for the temple if we had a lifesize portrait of his root Guru, Lama Lobsang Trinlé, that we could put on the throne when Rinpoche is away. In 2019, Khentrul Rinpoche commissioned a very fine quality portrait of his root Lama, Lama Lutrin, was painted for the 20th Parinirvana. We created a high quality scan of it. We have printed a artisan quality giclee of it on canvas and will need to get it framed.
If you would like to contribute to this holy object, we estimate the 1 meter wide print will cost
$250 AUD Giclee
$250 AUD for Glass
$800 AUD for the frame
This is a cheaper estimate.
Land of Shambhala – Golden Ground Fundraiser
$58,324
of
$500,000
raised
Om Vajra Bhumi Ah Hum.
The foundation to build the Land of Shambhala is the pure golden earth, completely pure, full of beauty and power. We have found a spot of land in beautiful Thornton, Victoria to manifest Rinpoche's vision. In order to secure the land, we took out a large mortgage. Helps us pay off the mortgage to offer the land fully to Khentrul Rinpoche.
If we work together we can do this quickly. Give whatever amount you can sustainably. If just a 200 hundred people offer $100 AUD monthly for the next two years, this will be paid off. It really is that simple to help.